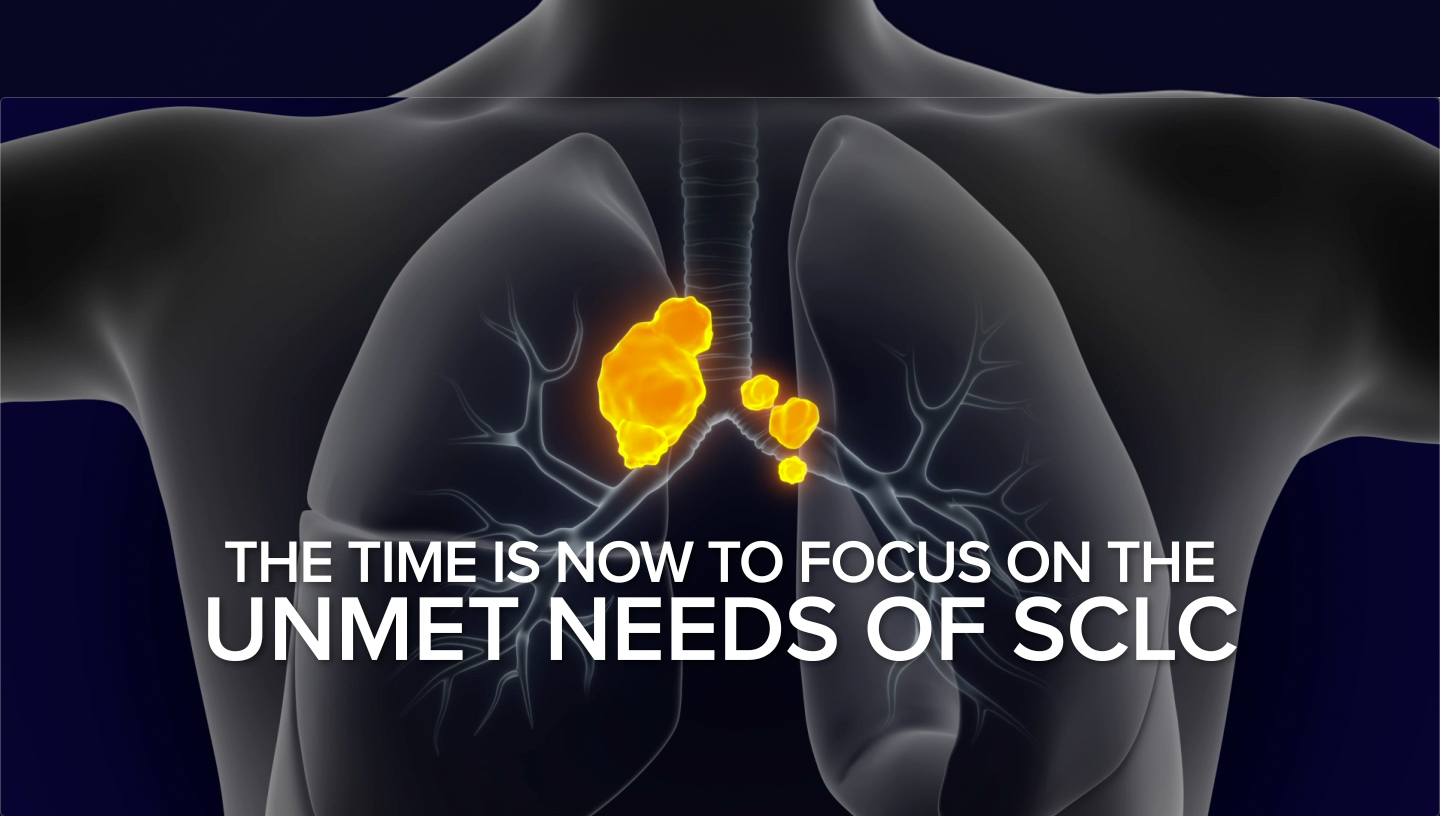 Approximately 70% of patients are extensive-stage at diagnosis1
The recalcitrant cancer2
The 5-year survival rate for patients diagnosed with SCLC is less than 7%.* Timely intervention at the first sign of relapse may help to improve outcomes.3-5
UNDERSTANDING SCLC
►
Symptomatic at presentation4
At the time of first diagnosis,
most SCLC patients present
with bulky tumors and/or distant metastases.1,4
DIAGNOSIS AND PRESENTATION
►
Development of an appropriate
long-term

treatment strategy

Relapse is likely in patients with SCLC. Taking into account the poor outcome in the majority of patients with SCLC, honest conversations about prognosis and goals of therapy should take place early on. Creating a treatment plan can help patients who relapse.4

STAGING AND 1L TREATMENT

►
Plan ahead for rapid progression4
Although patients with SCLC are highly responsive to initial treatment, most patients relapse with relatively resistant disease, leading to poor prognosis.4,6,7 Early planning for second-line therapy is therefore advisable.4


RELAPSED SCLC AND 2L TREATMENT
►
~75% or more of patients with SCLC relapse.4,†
For patients with SCLC, the time is now.
SCLC=small cell lung cancer.
*SEER data based on follow-up of patients from 2010-2016, and into 2017.3
†~75% of patients with locally advanced disease and >90% of patients with metastatic disease progress within 2 years of treatment.4
REFERENCES:
Huber RM, Tufman A. Update on small cell lung cancer management. Breathe. 2012;8(4):315-330.
Oronsky B, Reid TR, Oronsky A, Carter CA. What's new in SCLC? A review. Neoplasia. 2017;19(10):842-847.
Howlader N, Noone AM, Krapcho M, et al. SEER Cancer Statistics Review, 1975-2017. National Cancer Institute. https://seer.cancer.gov/csr/1975_2017/. Accessed August 9, 2021.
Rudin CM, Brambilla E, Faivre-Finn C, Sage J. Small-cell lung cancer. Nat Rev Dis Primers. 2021;7(1):3. doi:10.1038/s41572-020-00235-0
Glatzer M, Rittmeyer A, Müller J, et al. Treatment of limited disease small cell lung cancer: the multidisciplinary team. Eur Respir J. 2017;50(2):1700422. doi:10.1183/13993003.00422-2017
Cortinovis D, Bidoli P, Canova S, et al. Novel cytotoxic chemotherapies in small cell lung carcinoma. Cancers. 2021;13:1152. doi:10.3390/cancers13051152
Byers LA, Rudin CM. Small cell lung cancer: where do we go from here? Cancer. 2015;121(5):664-672.